Maybe I'm a bit late on the bandwagon, but I couldn't not post about the Kim Kardashian naked butt photos that have been breaking news headlines since they were first released a few days ago. 
Breaking the Internet with her butt
Kim's latest publicity stunt is a butt-naked photo on the cover of Paper magazine, which shows her well oiled booty in all it's glory.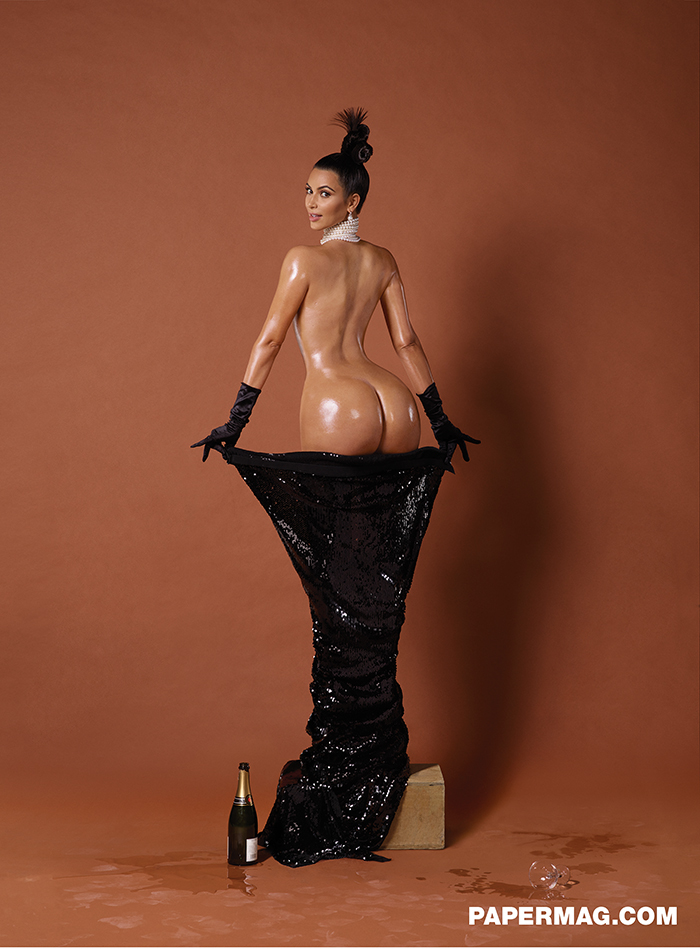 If you look hard enough, you may just be able to make out the reflection of Jean-Paul Goude, the photographer.
Just kidding! (How long did you end up staring at her butt for? Let's face it, you probably would have been there for a while anyway.)
The supplementary pictures may be arguably even more impressive, with Kim balancing a champagne glass on her famous derrière, and somehow catching a stream of celebratory champers in it as well. This surely brings a whole new literal meaning to the term 'shelf butt'.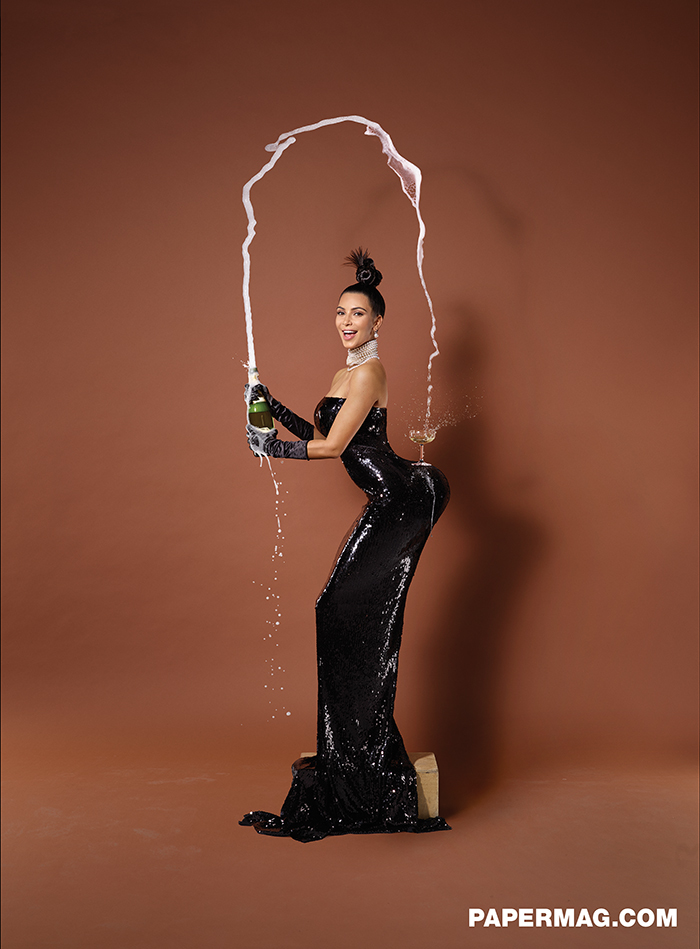 Kim posted the pics on instagram, with the hashtag #breaktheinternet. For some reason the phrase makes me picture her sitting on a box labeled 'the internet' and inadvertently crushing it to pieces with her butt. If you've ever watched The I.T. Crowd, you'll know what I'm talking about.
There's more to the story too – the rest of the photo shoot involved some very revealing photos, with Kim going full frontal and quite literally baring all. Talk about creating a talking point!
Real or Fake?
The photos have gone viral on social media, but raise the age-old question again – are they real or fake?  Surely there has been some photoshop involved (unless Kim's got some really good aim with a champagne bottle), but for the most part we are told that the images have been left alone and that butt is all Kim.
The Aftermath…
Since the photo there have been heaps of recreations popping up on the net of others mimicking the pose, including this amusing yet somewhat disturbing video of guys recreating the infamous photo – oil and all. Hilarious, but watch at your own peril!
American comedian Chelsea handler jumped on the bandwagon as well, posting on instagram showing what a real butt looks like next to Kim's.
I'm not sure what to make of it all, but at the very least I think it's great that Kim can give the rest of us some inspiration to hit the gym and start boosting up our butts!
What do you think of Kim's photos? Is her butt for real?
The Kim Kardashian Naked Butt Photos that are Breaking the Internet